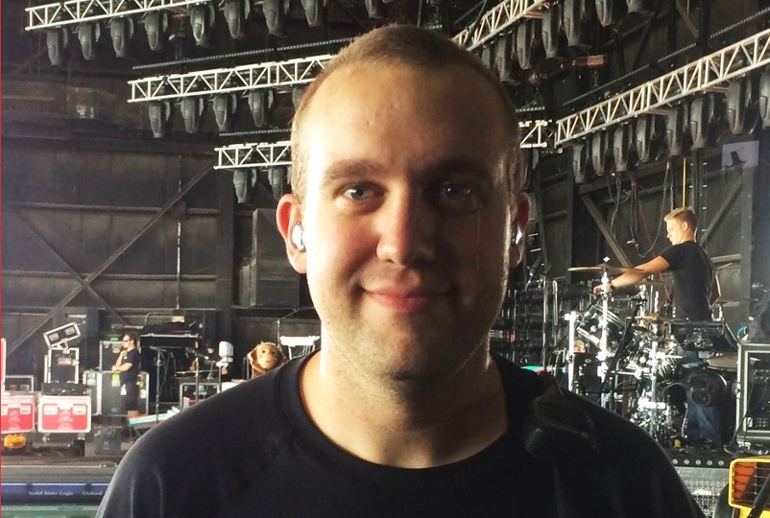 If you've installed any wireless system, you know the actual installation is only half the battle. My colleague Dennis elaborated on the importance of evaluating the operation area and conducting an RF spectrum analysis upon your first visit to the site in order to ensure that your frequency plan is foolproof and safe from interference. And by having a firm understanding of the job and all it's details in writing, your installation is sure to go smoothly. But what about when you are working with a pre-existing system and simply need to make sure it's running efficiently? Upkeep and maintenance on your gear is essential, and no one knows this better than veteran RF engineer Ryan Stotts.
Stotts, who hails from Nashville, Tennessee, began his career in wireless while he was still enrolled in college. He took a gig working for a sound equipment rental company whose main client, incredibly, was The Magic of David Copperfield. Stotts recalled the wireless setup as we took a stroll down memory lane: "The show consisted of 2 Lectrosonics Venue frames each loaded with 6 receivers, 4 BTR systems and an IFB system, if I recall correctly. (That job was where) I really obtained knowledge of maintaining and repairing wireless equipment."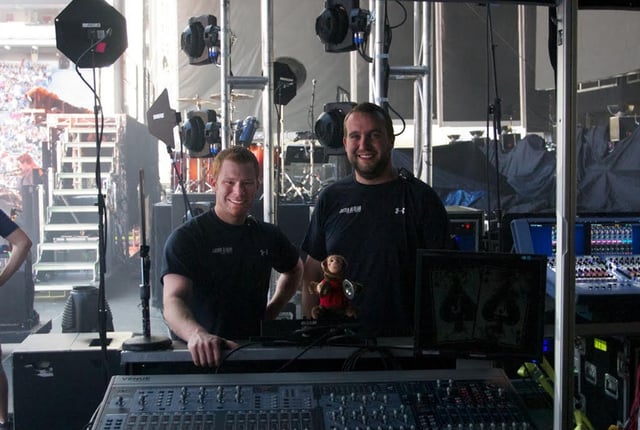 Stotts on site with Aldean's monitor engineer Evan Richner
2011 saw Stotts dive deeper into the world of wireless, when he started as a PA tech for Jason Aldean. "The tour was just starting to headline. While I flew PA, the monitor engineer Evan Richner would pull feeder, setup monitor world, wire the stage and setup RF. Once my PA duties were complete I would jump in and help him where needed. To keep him behind the console once the band was onstage, I created the role of stage tech/ monitor tech / RF."
Stotts stayed with the Aldean tour till 2016, when another opportunity presented itself that seemed too good to pass up: working with an old friend and mentor, and someone faithful Audio Gloss readers might recognize: Jason Glass. "Jason is who encouraged me to pursue RF and has shared a plethora of knowledge. In August of 2016, he and I got hired as NFL Game Day Frequency Coordinators for Nissan Stadium in Nashville, TN. It is has been amazing to hang out with one of my best friends and learn from our SBE coordinator Gibson Prichard and SBE chapter 103 chairman Carl Campbell."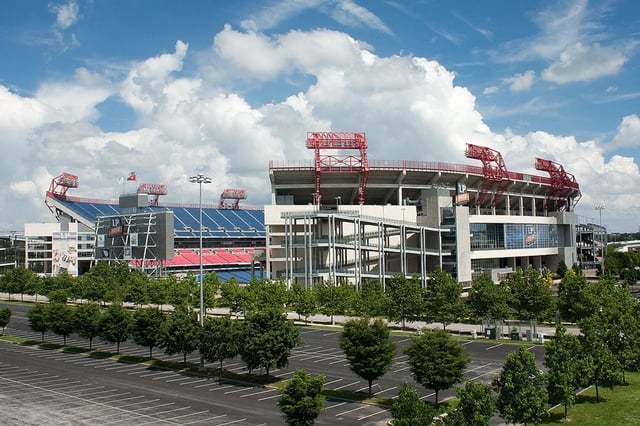 Nissan Stadium, pictured above, in Nashville, TN
Dealing with RF distribution for a stadium that seats nearly 70,000 presents a number of obstacles, one of which is system upkeep. And as someone who has had their fair share of both troubleshooting service calls and regularly-scheduled maintenance repairs, Stotts knows the ins-and-outs of how to to keep your system running efficiently.
"When I was touring with the same system, I would do a complete system check and cleaning every few months as the equipment entered the shop. You see a lot of the same common mistakes: not managing wireless devices properly when not onstage (use the tins), diversity antennas too close together in the same wavelength, not removing batteries from portable devices if not used for extended period of time. You will even see 75-ohm cable on a 50-ohm system – not the end of the world but does cause impedance mismatch. These maintenance techniques—cleaning contacts, tightening loose screws and always looking at reducing handling noise of the portable device—they go a long way to keeping your system running smoothly."
Thanks to Ryan for taking some time out of his busy schedule to share some of his insight, and make sure to check back soon as we'll be sharing more case studies here on Audio Gloss.