Better RF means better audio
One major benefit of using in-ear monitor (IEM) combiners with a good quality helical antenna is how much it can improve system sound quality. This is often overlooked since we focus so much on the RF side of the system to reduce intermodulation distortion (IMD) and improve signal to noise, but ultimately, highest quality sound is the goal. So how does good RF impact audio?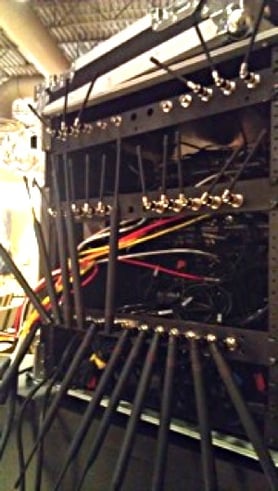 Any multi-channel IEM system that doesn't use a combiner and instead stacks the transmitter antennas on top of one another in a typical antenna farm (pictured right) is going to sound bad. It may work, but the audio will be negatively impacted by noise, dropouts, or interference.
With the RF Venue COMBINE8 Upgrade Pack in place, this system would have dramatically better audio. Improving RF signal quality in an IEM system means better sound. Whether it's reducing dropouts by improving signal to noise, reducing IMD or putting better signal on stage with a helical antenna, improving RF means better sound.
We followed up on a recent install at a church that went from a system with no combiner to one properly wired in to a COMBINE8 and CP Beam Antenna:
"We put in the COMBINE8 with the CP Beam Antenna and the performance improved dramatically. Immediately our Campus Worship Leader asked what had been done, as he was unaware the installation was completed and could not believe how the IEM noise had been reduced and sound imaging made clear. I was monitoring via my IEMs and I had the same result: clean, articulate, and properly functioning IEMs."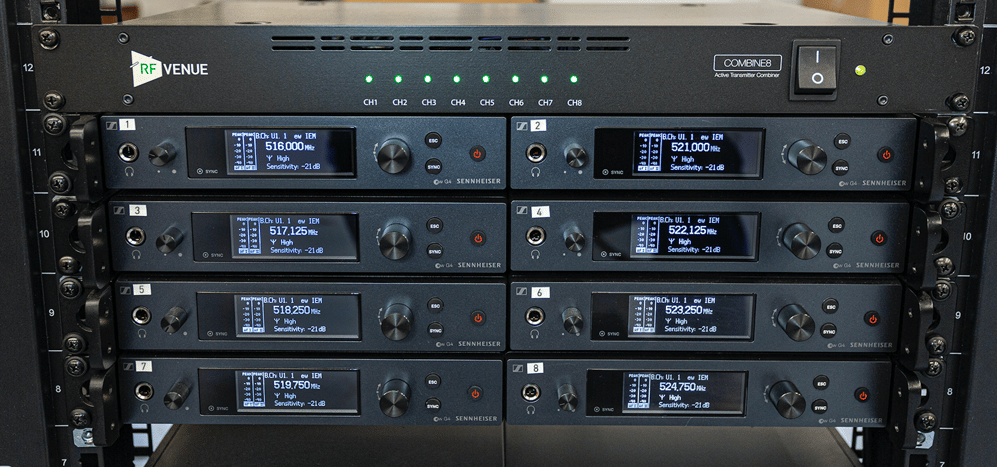 We listened to customer feedback for a higher channel count combiner, included an external power supply for powering up to 8 IEM transmitters, and at half the price of alternative 8 channel combiners. The COMBINE8 In-Ear Monitor Combiner features a 65% improvement in total harmonic distortion over a comparable 4 channel system, resulting in better audio quality for IEMs.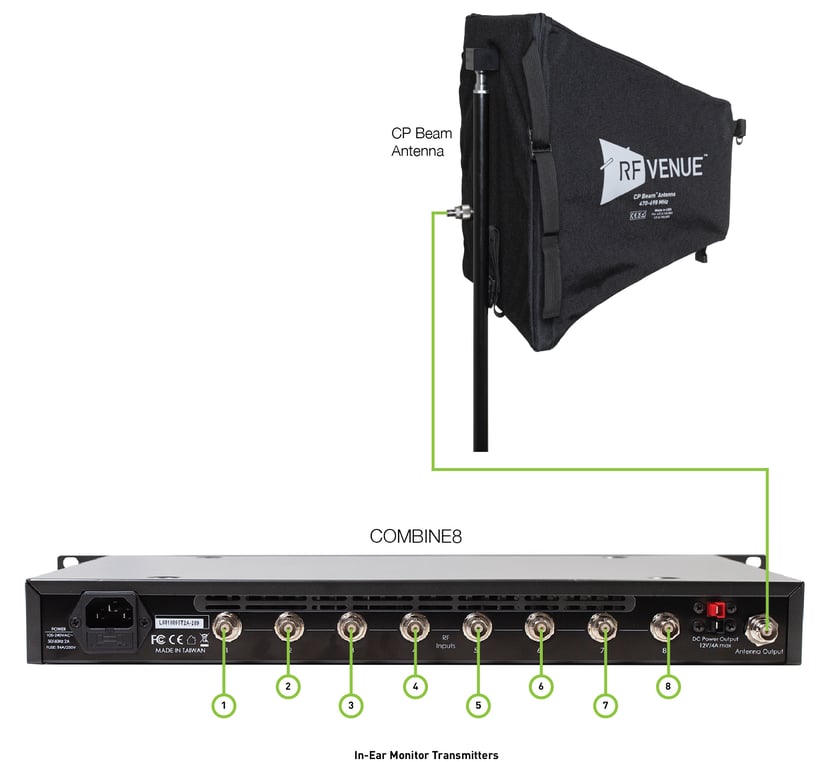 At the end of the day, better RF means better audio. The end result that is so critical to the musicians and the production team; a clean, clear and articulate mix that translates into a positive and productive performance. To learn more about how to upgrade your IEMs for their best performance be sure to Contact or click below: