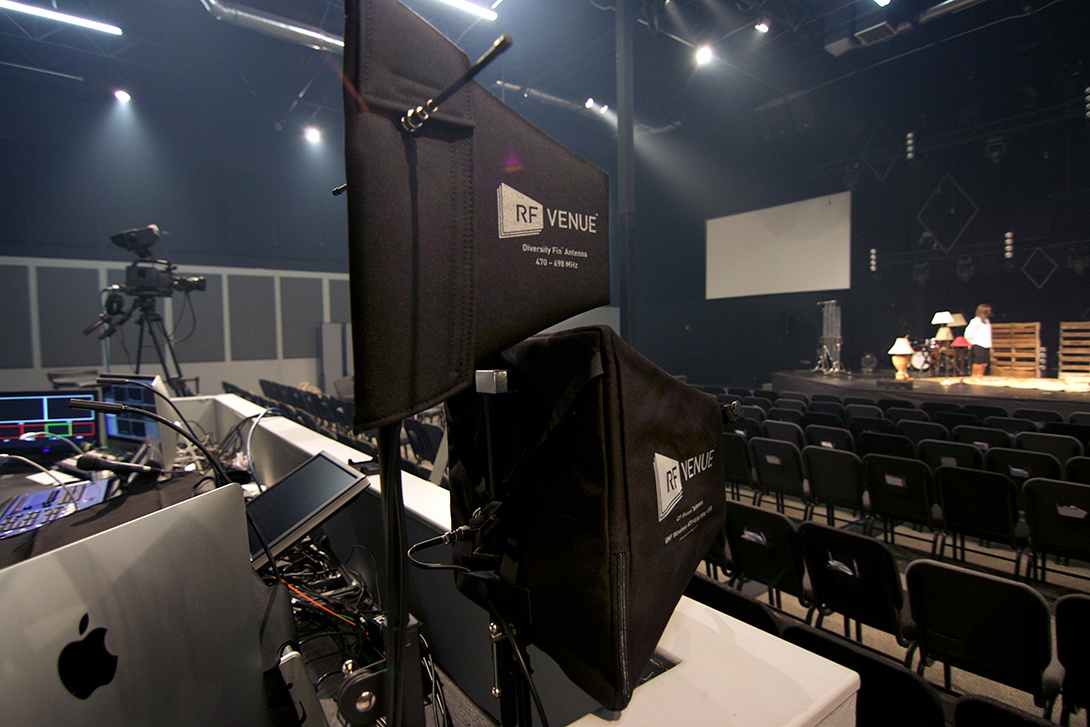 This isn't the first time we've stressed just how important antenna distribution is for high performing multi channel wireless microphone and in-ear monitor systems. But instead of telling, this time we get to show it.
NORTHchurch.tv is a vibrant, large, modern church in Oklahoma City. They are unusual for their size - with 1,400 weekly worshipers they are among the 1% largest churches in the US - but as far as wireless audio is concerned, their story is typical of up-and-coming contemporary churches.
Evolving worship styles and steeper demands from musicians and pastors have steadily increased the number of wireless channels a given church uses from Sunday to Sunday (and other days in between). As channel counts go up, volunteers and technical directors are discovering how difficult it is to control dropouts and interference.
When NORTHchurch.tv decided it was time to upgrade both their sanctuary and A/V equipment for a growing congregation, they tapped a longstanding relationship with Skylark Audio Video.
"These days," says Skylark's Aaron Newberry, "more musicians are using mics, in part because of the Hillsong approach. It seems like in the worship world the technical directors are trying to get rid of stage noise. By putting vocalists on one mix, sharing some bodypacks on an EW300 and getting everyone on in-ear systems it gets rid of stage noise and allows them to do be more creative FOH. But, it definitely starts to cause issues when you add a ton of wireless channels."
NORTHchurch.tv's Production Director, Stephen Kramer, knows about these issues all too well.
"When I first arrived we had older Sennheiser gear that had an antenna distro with it," says Stephen. "As we upgraded and added more channels, we just ran transmitters by themselves without distribution. The booth at that point was only 40' from our stage, but we struggled with random frequency noises, and dropouts when someone grabbed the bottom of the mic."
In late 2014, with the help of Skylark, NORTHchurch purchased a new console and made radical changes to their audio system, including an antenna distribution package from yours truly, RF Venue. 14 microphone channels were patched through a single Diversity Fin and four DISTRO4 distros. Six IEMs were distributed through two COMBINE4 transmitter combiners and one CP Beam antenna.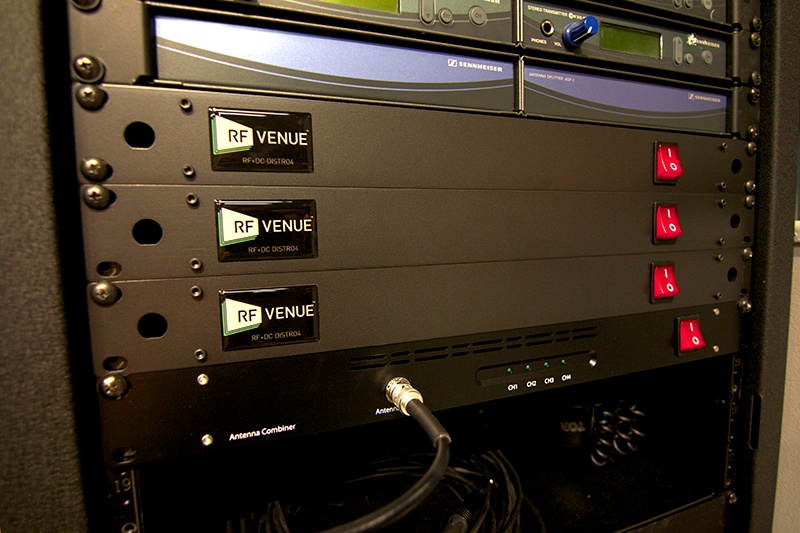 A clean rack, thanks to antenna distribution.
Todd Cromwell of Skylark elaborates: "A lot of times in our FOH designs the mics and in-ears are in a cabinet under the booth. That often creates dropout issues. We use distribution to get the antennas out of the cabinet and eliminate any issues that could arise."
NORTHchurch's Stephen is pleased. "After we put the new system in, I haven't experienced any issues with interference while the mic is in use. In fact, I was joking with Steele, an engineer at Skylark, that we're now picking up way too much signal."
As NORTHchurch.tv continues to grow, their productions will get cooler and more elaborate, and they'll likely add more and more wireless devices, be they in-ears, mics, or intercoms for the staff. As is the trend these days, NORTHchurch may want to add additional campuses as well, for which Skylark is prepared.
"Something we are pretty serious about is helping churches that are looking to go into multi-site make the right decisions," says Aaron Newberry. "Because the costs can get out of control pretty fast."
With careful planning and help from Skylark, we know Stephen and the rest of the production department at NORTH will be ready for what's ahead.