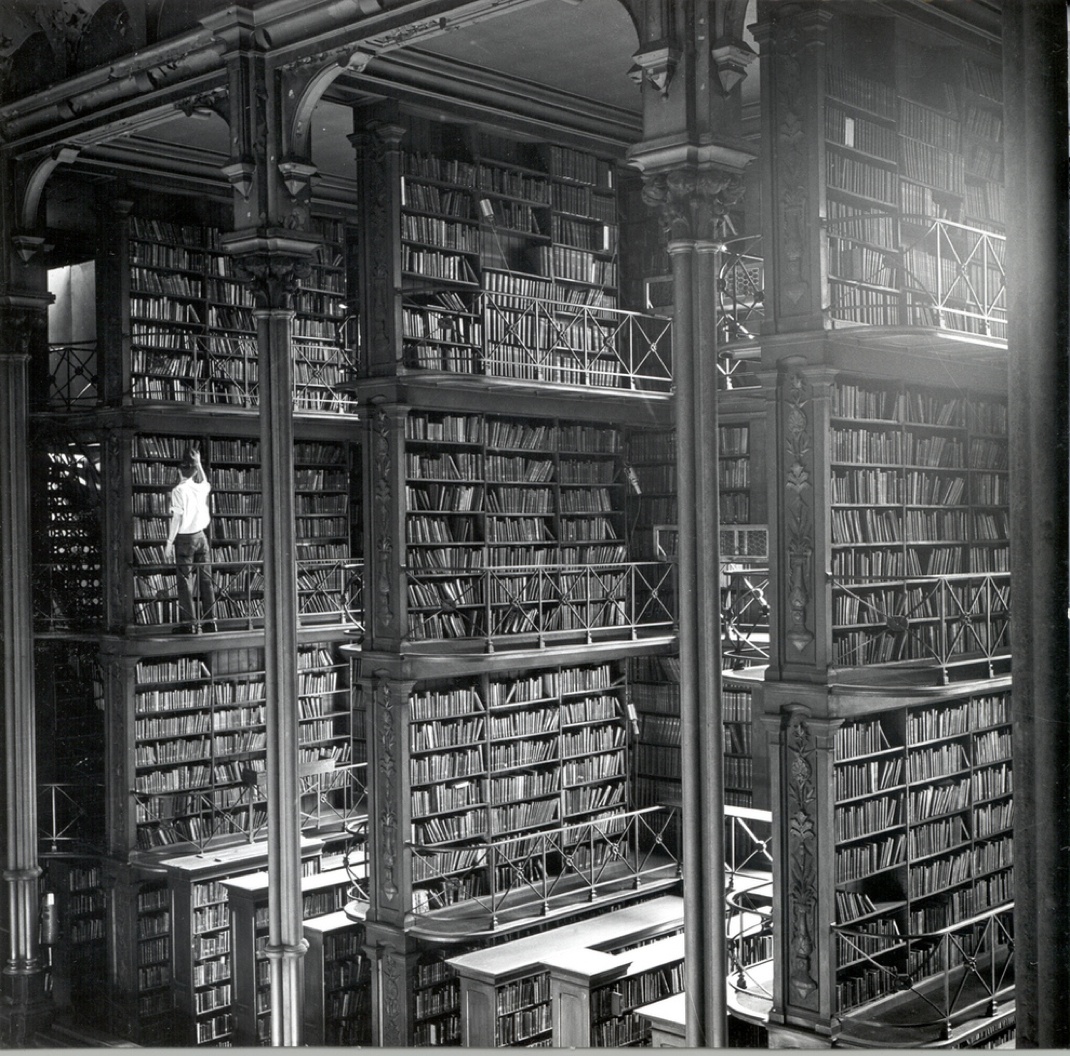 The FCC has put an interesting system in place for registering unlicensed wireless devices in the TV Band whitespaces. The registration affords protection from TVBDs. At RF Venue, we believe that every opportunity the unlicensed community has to lay claim to public spectrum should be taken advantage of. Unfortunately, not every unlicensed wireless microphone is eligible for this service, and the FCC has spread the steps out across multiple documents and websites. We have taken the time to gather them all up and present them in a more palatable tutorial.
First, an overview.
That's right, anyone who operates a wireless microphone is eligible to apply for (although not necessarily receive) protection from TVBD interference on the FCC database. If approved, the applicant's microphones will be entered into a database that instructs all cognitive TVBDs in a one kilometer radius to cease transmitting on your registered frequencies. For a background on the TVBDs, please see here.
This is essentially a loophole tacked onto existing regulations in order to give broadcasters and other large venues using dozens of channels at major events the ability to use unlicensed microphones as supplementary devices without worrying they will be impacted by TVBDs when the existing reserve channels aren't enough.
Even though the law was written for these users in mind, it does not exclude non-broadcast unlicensed users from applying. We believe that for as long as this law exists, qualifying unlicensed microphone users should seize the opportunity and register for protection.
Who is eligible?
This service will apply only to a narrow group of users. There are a few variables they consider, but as a minumum, you are eligible only if using more than 12 microphones for a group that is producing a public, large scale performance. In practice, registration is not recommended unless the event has at least 30 channels of wireless. RF techs associated with tours can also register under their own names without any other qualifications. Although you can register a recurring event for up to a year, the ideal registrant is administering an event for no more than a few days.
There are many compelling reasons to fill out an application if you think you qualify.
TVBDs are starting to hit the streets as we write this post. The primary benefit of registering is that you will be immune to TVBDs. Users who previously had no problems finding channels will start to experience them. As the rollout of TVBDs begins, registering your unlicensed wireless microphones will be crucial to interference free operation of coordinated multi-mic systems.
You also have nothing to lose. Well, all you have to lose is time. There are no fines or penalties that the FCC can impose for attempting to register. The worst that can happen is your application is denied and your information deleted. The best that can happen is that you will be completely immune to interference from TVBDs.
Plus, simply submitting this short application sends a message to the FCC that unlicensed wireless microphone users exist, that they are skilled, eligible operators, and that they are serious about being able to keep using their equipment.

Part 74 broadcast users have known this for years. They register as Part 74 secondary users to be able to use higher powered equipment and for interference protection, but they also do so to be able to tell the FCC, we are here and we are using spectrum. Unlicensed wireless microphone users outnumber licensed users 1000 to one, and yet the FCC barely knows they are there.
Without further adieu, steel yourself as you learn how to register your unlicensed wireless microphone for interference protection from TVBDs.
*This process should be attempted only by those who are familiar with the technical operation of wireless microphones and FCC regulations. RF Venue is not responsible for any actions taken by third parties which may result in FCC sanctions.
Part One: Get an FRN
You need an FRN (Federal Registration Number) so that the FCC can keep track of your information and billing history.
Register for an FRN here: https://apps.fcc.gov/coresWeb/publicHome.do
The application is straightforward, free, and you'll get your FRN right away. (The rest of the process is free as well, BTW)
Part Two: Research Spectrum
The key to understanding the unlicensed wireless microphone registration system is understanding how the TV broadcast band is organized and, crucially, the difference between a reserved channel, an available channel, and a white space channel. If you do not understand the distinctions between these three types, you will not be able to understand this process.
Reserved Channel: In every location, the FCC has sert aside two channels for the exclusive use of wireless microphones. No other devices are allowed to operate in these two channels.

Available Channel: A channel that wireless microphones may use, but not TVBDs. Available channels occur because there are certain locations where regulations forbid TVBDs--like on a channel directly next to a live digital TV station--but not wireless microphones.

White Space Channel: A channel that is not in use by or near a TV station which both wireless microphones and TVBDs can operate on.
In order to qualify, you need to be operating more microphones or IEMs than can be accommodated on channels that are reserved or available for wireless microphones, but not TVBDs. That means you need to be operating a minimum of 12 channels of wireless (six per reserve channel), but you have a much better chance of approval if you have at least 30. We do not recommend attempting to register without at least 30 devices.
What constitutes a channel that is available to microphones but not TVBDs is difficult to determine without access to a database, since the location of reserve channels and location and number of available channels varies significantly from place to place. Spectrum Bridge has made it very easy to figure out available channels using their Show My White Space tool.

Let's run through how to figure out available channels, using the RF Venue lab as a dummy location. We've selected "Wireless Microphone" and typed in our address. A map and list of reserved, available, and white space channels is returned.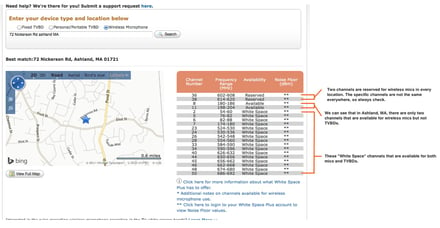 What to expect in the Show My White Space tool.
Since you only receive protection from TVBDs, the only reason to use the registration system is if you have more microphones than can be accommodated in the reserved and available channels.
Part Three: Request Registration from the FCC
*You must register at least 30 days before the event.
Log in to the FCC license manager using your new FRN and password: https://wireless2.fcc.gov/UlsEntry/licManager/login.jsp
Click on "My Unlicensed LPAD Registrations" link located in the navigation sidebar. "File Unlicensed LPAD Registrations" will appear beneath. Click.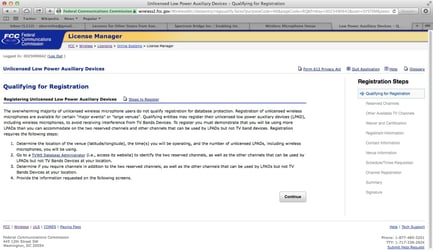 What to expect on the application.
You will then be guided through the application process. Make sure to answer all of the questions accurately. We're going to give you a few notes on the steps.
Step one: Qualifying for Registration. An overview on the process and eligibility. Make sure to read and click "continue."
Step two: Reserved Channels. Using the information you got from Spectrum Bridge, input the two reserve channels as revealed in the Find My White Space app and the number of wireless microphones or other wireless audio devices you intend to use in each channel. You should be using at least six microphones in each reserved channel.
Step three: Other Available TV Channels. Now the FCC is trying to determine that you are using all of the other channels that are available for use by wireless microphones, but not TVBDs. If you answer "yes," it will prompt you to document your use of these channels using your channel plan and info from Spectrum Bridge. You should be using at least six microphones in each available channel. If you answer "no," you are not eligible. If you answer "there are no other available channels" then you are still eligible and continue the registration process.
Step four: Waiver and Certification. You do not need a waiver if you are registering at least 30 days before the scheduled event.
Step five: Registrant Information. Input the info for the person or organization that is responsible for operating the microphones. If you are an independent sound technician who has no previous association with the venue, you should input your information, not the info for the venue where the event will occur. Make sure to include an email address!
Step six: Contact Information. Speaks for itself, generally the same as Registrant Information.
Step seven: Venue Information. Enter the address where the event will be held along with GIS coordinates. The database needs a GIS variable for determining your location and the protection radius it will invoke around your venue. We recommend using "Discrete Coordinates" and inputting the degrees, minutes, and seconds of your venue. To figure this out: 1) Go to maps.google.com. Find your venue and zoom in on where you'll be using your devices. Hover the mouse over the location. Be specific. If your mics are in a specific room of a facility, try to hover over that room, instead of the general area. Right click. Click "What's here?." A small window will pop up displaying the decimal degree coordinates (Example: 42.259403, -71.472254). Take note of these or keep the tab open. 2) Visit the FCC's decimal degree converter or click "convert coordinates." Take note of the coordinates and enter them in to the appropriate fields in step seven, MAKING SURE TO REMOVE THE MINUS SIGN FROM LONGITUDE. N/S refers to the northern or southern hemispheres. E/W refers to the degree deviation from the Prime Meridian. If you are in the continental US, the default values will work.

Step eight: Schedule/Times Requested. Single or weekly recurring event. Recurring events can be registered up to 12 months, but it is not recommended that routine or mundane events be registered.
Step nine: Channel Registration. This is what it's all about. How many additional white space channels over and above the reserved and available channels will you need to fit the rest of your wireless microphones or other wireless audio devices? Find the minimum/maximum number of channels by dividing the number of microphones required in addition to available channels by six. Round this number down for the minimum, and up for the maximum. For example, if I need a total of 38 microphones, and can fit 30 of them in the two reserve and available channels, I get 8/6=1.3. The minimum number of channels is one, the maximum number of two. If the spectrum in your spot is known to be particularly ferocious, you may be able to argue for more.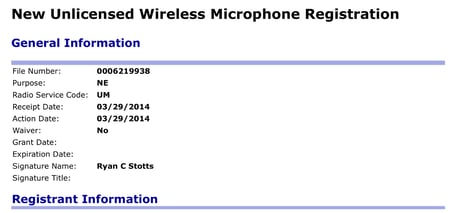 Click on the above photo for an example of an RF tech's recent application for protection of a concert in Roanoke. This is the summary that the FCC posts for public inspection.
Part Four: Register with Spectrum Bridge or Other Database Administrator.
Once approved, the FCC will post your information (all of it) out in the open where the public can comment on your request, and email you a ULS file number. Use that ULS number to register for protection with a database administrator. Spectrum Bridge seems to be the preferred administrator for this, and they will guide you on the rest of your registration journey at this link: https://whitespaces.spectrumbridge.com/protectedentityregistration/lowpowerauxunlicensedregistration.aspx
Note: We have a report from one user who has attempted to use Spectrum Bridge with limited success. Another administrator, Key Bridge, is an alternative. Visit their white space portal, sign up for an account, and then click through to "protected services" where you should find a portal for unlicensed wireless microphones within the left hand side navigation pane.
Leading image courtesy of the Public Library of Cincinnati & Hamilton County.