Introducing the RF Venue 8 Channel In-Ear Monitor (IEM) Upgrade Pack. You can now combine up to 8 IEM transmitters in a single rack space and at a lower price than pairing up multiple 4 channel units.

Making the move from floor wedges blasting in your face to In Ear Monitors (IEMs) can greatly improve your on-stage performance as well as the listening conditions for your audience as they will now hear a more true mix from the PA system. You can virtually eliminate feedback and you can also incorporate things such as click and backing tracks without your audience hearing them. It should be noted this can be of great value when you are streaming your performance online as you will be eliminating a lot of unintentional bleed.
However, adding 4, 6 or 8 IEMs to your wireless microphones causes added strain on that system and can lead to unreliable performance and poor sound quality if you add 8 additional antennas. Simply put, the more antennas you have, the more potential problems you have. Fewer antennas is always preferable to an antenna farm.
Adding an IEM combiner is simply the correct way to do it. In the past combining more than 4 IEM transmitter meant linking multiple combiners or purchasing a very expensive combiner. But today RF Venue is very pleased to announce our new Combine8 IEM combiner. You can now combine up to 8 IEM transmitters in a single rack space and at a lower price than pairing up multiple 4 channel units.
Announcing the RF Venue 8 Channel In-Ear Monitor Upgrade Pack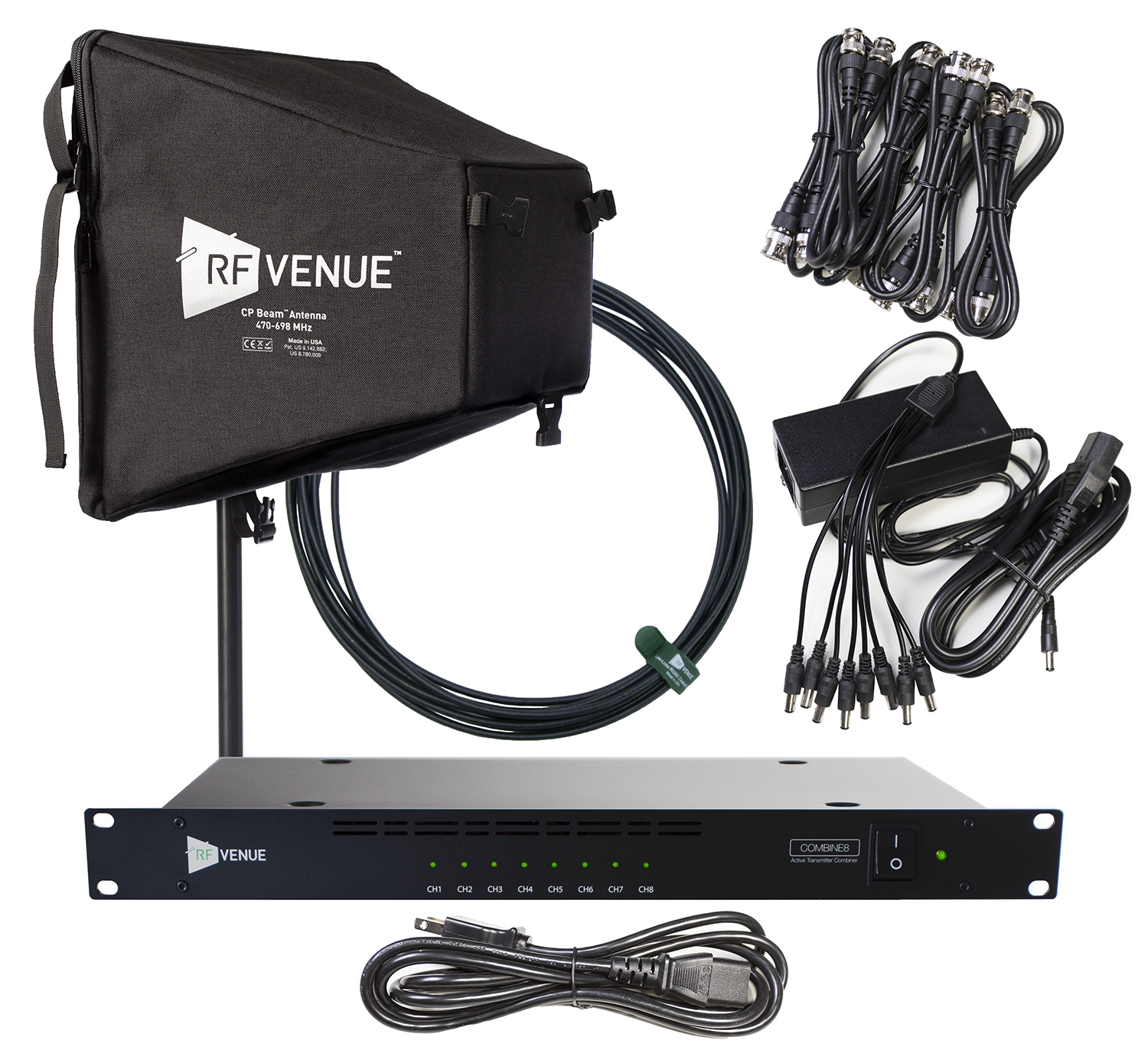 Everything you need to wire up to 8 IEM transmitters and to provide DC power for these transmitters using the supplied power block. The upgrade pack includes our patented CP Beam helical antenna along with a premium quality 25' RG8x coax cable, so you have everything you right out of the box. Helical antennas outperform paddle or whip antennas for IEM use by adding additional reliability to your system as they eliminate polarization dropouts (a leading cause of dropouts on stage).
Combine8 will work with all brands of unlicensed IEM transmitters that operate in the UHF TV band, analog or digital (or both!). Simply plug your transmitter into the 8 inputs, connect the dc power supply and run the coaxial cable from the output to the CP Beam antenna.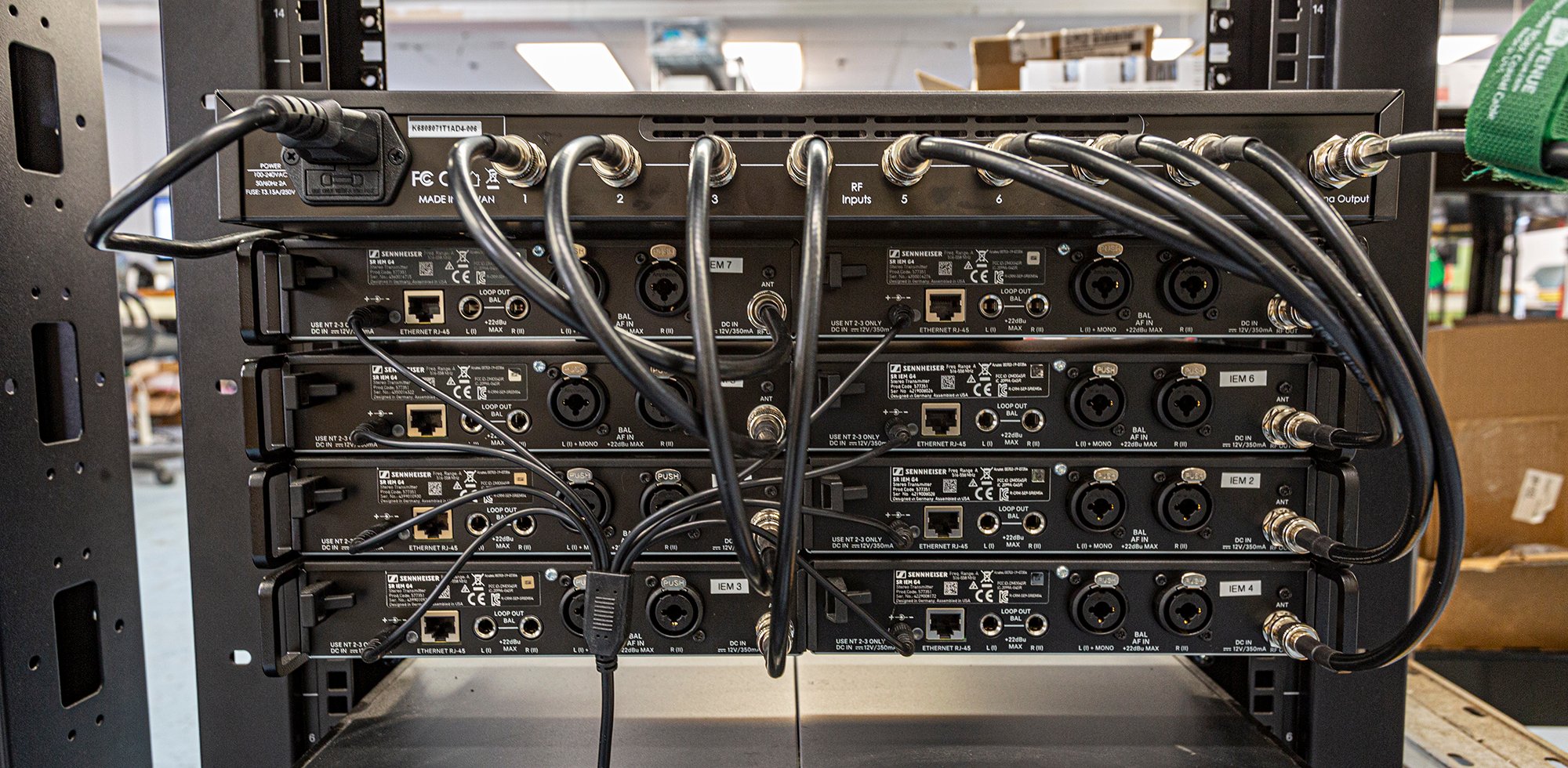 PERFORMANCE TIPS:
Antenna combiners can greatly lower Intermodulation (IM) products that can interfere with your receivers and reduce the number of open channels you might have to tune to. IM products can also be reduced by setting your IEM and wireless mic transmitters to their lowest power level that works in your venue. Power causes problems so the less you can use the better.
Unless you are using your IEMs across a football field you almost never want to run them at full 50 mW power levels. 30 mW or better 10 mW will provide better performance and less interference. While that may seem counterintuitive, remember that the CP Beam antenna has almost 10dB of gain so even after you have backed off the transmit power you will still have more power than the stock whip antenna but with much lower distortion in your signal.
Don't forget to separate your IEM antenna from your wireless mic receiver's antenna by at least 6 feet since one antenna is pitching and one is catching. Think about this the same way you do when you place microphones away from speakers to avoid feedback.
Another tip to optimizing your setup is to stagger your transmitter's channel frequencies across even and odd input pairs.
Picture that you have 8 channels from low frequency to high frequency. We'll call transmitter channel 1 the lowest frequency and channel 8 the highest frequency. When you assign your transmitters to the chosen frequencies (hopefully selected with the aid of a frequency coordination program) put TX channel 1 into input 1, put TX channel 5 into input channel 2, 2 with 6, 3 with 7 and 4 with 8. This will likely help reduce the likelihood of intermod buildup depending on exactly the frequencies you have selected. Check out the photo below.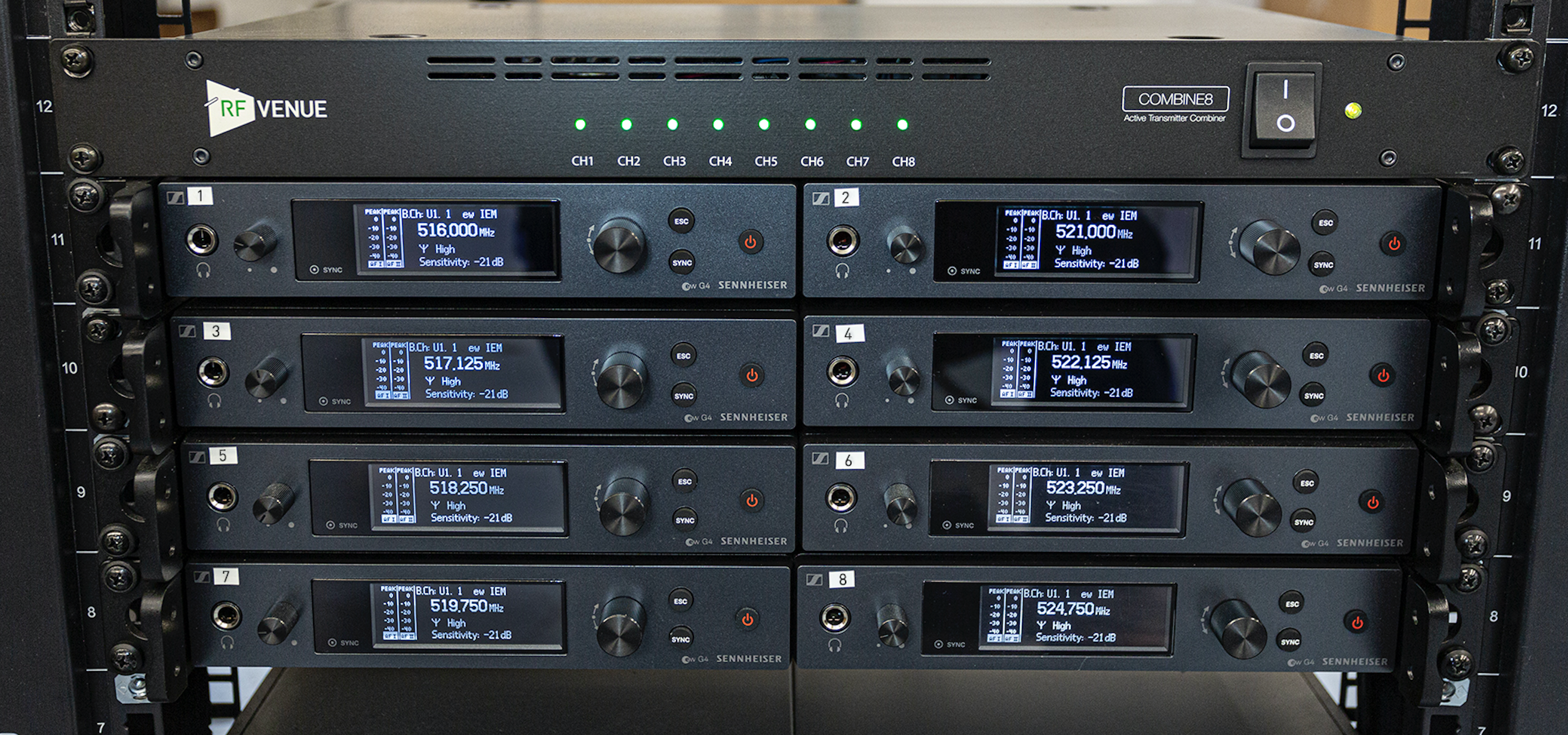 Remember that all of your wireless mics and IEMs interact and need to work together as a system on stage. For the best strategy on how to setup wireless mics and ears together please check out our 2 part series that starts here.