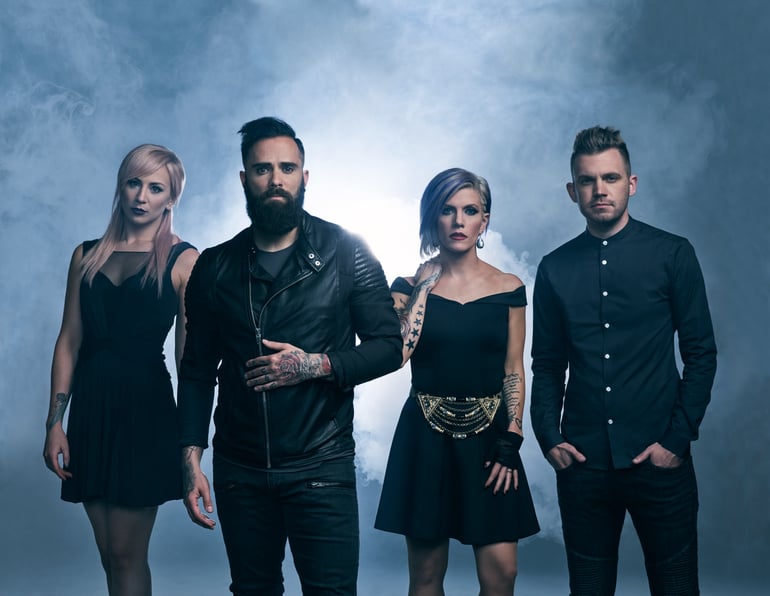 As touring schedules grow longer and more unwieldy, many bands seek to transform the grind of life on the road into opportunity—like time for bonding and kinship. No band practices this better than Memphis foursome, Skillet, who've brought their characteristic fusion of alt-metal, hard rock, post grunge, and soaring alt rock to stages since 1996.
Led by husband and wife duo John and Korey Cooper, who handle lead vocals, bass and rhythm guitar, and backup vocals, respectively, Skillet's anthems are not only energizing, but aim to spread a message of unity.
Cooper, Skillet's founding member and sole songwriter, has devout roots in the Christian Rock world and describes the band's aim as intending to unite fans, spiritually and socially. And it's hard to find a band who's been more successful with these aims—they've cranked out nine full length records, received two Grammy nominations, and landed the biggest digital single in the history of Christian Rock with "Monster," which accumulated 2.6 million sales and was certified 2X platinum.
Skillet's latest tour zigzagged across the European subcontinent over a total of 22 gigs. It kicked off in Paris, then forged east: dates in the Netherlands, Germany, Sweden, and Finland were followed by two massive shows for Russian fans in St. Petersburg and Moscow.
An ethos of inclusivity, commitment, and hard work extends throughout the band's entire crew, a group that is now several dozen strong and includes tech, band members, and children of the crew as well.
Ted Williams, Skillet's main FOH, started with the band eight years ago, when he subbed for an monitor engineer fallen ill. He's been the band's go-to FOH engineer for two and half years now, and this commitment embodies the lifestyle the Coopers foster on the road. Williams describes traveling with the band "as one big family."
"They have their kids out on the road with them," he continues "Even though the band and crew all have different interests and different lives we can all come together as a family on the road."
There's no time for family like Thanksgiving, when Williams fondly recalled the entire crew being treated to a surprise American style feast in the heart of Warsaw, Poland, where Thanksgiving festivities are nowhere to be found.
The band's multifaceted stage setup deploys wireless for several purposes. "We have four channels of Shure UHF-R wireless handhelds," Williams explains. "Eight channels of Shure PSM 900 for tech packs and other players, and four channels of PSM 1000 IEMs for the main artists. Additionally, there's one channel of ULX for the cello player."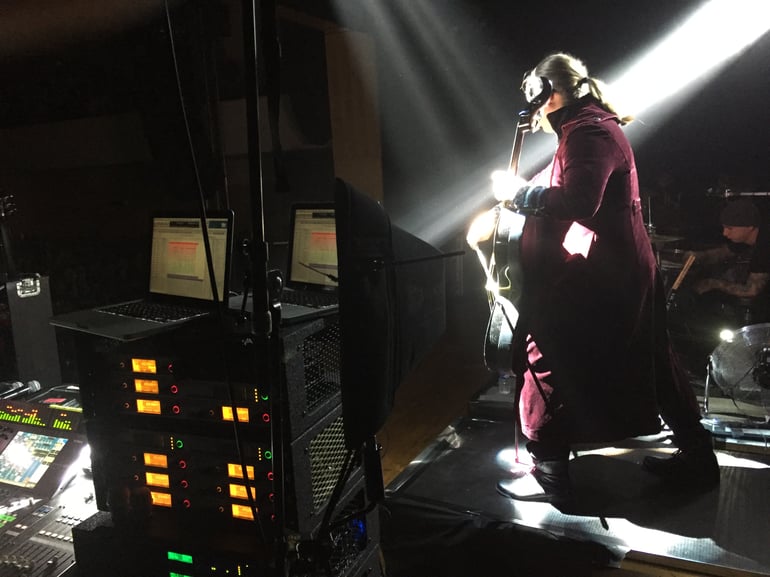 Williams and the tech team deal with such a varied wireless setup with the help of RF Venue's Diversity Fin Antenna on the UHF-Rs and ULX, while two collapsible CP Beams are reserved for the in-ear monitors essential to John and Korey's close harmonies and dueling vocals. "RF Venue products have been nice on the many festivals dates we've played, where I can spread them out a bit more." Williams detailed. "When we went to RF Venue we cut our antenna count in half."
Skillet's long-time backline provider, Tour Supply, couldn't agree more. The Nashville-based company provides wireless for many of the biggest bands in the world. Lance Wascom, CEO and owner, said, "We've gratefully been able to work with Skillet for many years, and we've placed RF Venue products all over their stage, which has continued to do the job for several world tours. RF Venue has become a 'go to' manufacturer for us in providing solutions for critical RF applications in live sound."
Wascom's praise for the Diversity Fin and CP Beam were similar to Williams': "We especially love the CP Beam's ability to collapse into a small rack drawer rather than lugging around a giant case to house a traditional helical," he claims.
"That being said, the performance of the antennas never ceases to deliver. As such, it's vital that we provide combiners, antennas, and even RF cables that enhance these systems and their performance. RF Venue's entire product line has delivered in this capacity, time and time again. In short, we trust RF Venue to deliver signal in mission critical environments."
Images courtesy Skillet Press, and Ted Williams.