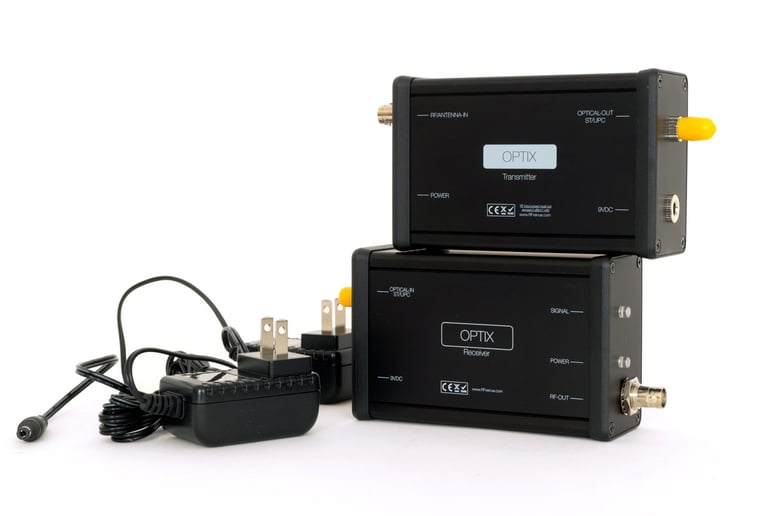 PRG, a premier provider of international audiovisual services from 40 global offices, used the RF Optix RF over fiber-optic conversion system for a challenging corporate event in New York City this October.
The event, which was hosted by a Fortune 500 technology giant at expansive Pier 36 on the East River, featured demo spaces, a lounge, and an immersive theater for 700.
The theater presented unique challenges to the audiovisual and RF coordination team, explains Audio Designer Bradley Mulligan, who designed the system for PRG Canada. "It was challenging in that there was no backstage," says Mulligan. "There was no area that you could set up equipment as you normally would. The distance from the mics to the receivers was about 250 feet."
Mulligan was joined by Mac Kerr, Head of System and Network Technology, as well as Vern Binns, Lead RF Technician, alongside Jim Broeking as RF Tech - all from PRG Seacacus. Mac Kerr shared RF Technician duties with Binns.
Because of stray signals floating in from nearby Manhattan, the receiver antennas needed to be remoted as close to the stage as possible. Further, the East River sat directly behind the theater and presented the unusual threat of nautical radar and microwave intermodulation artifacts contaminating the show's RF as large ships and ferries passed by.
"You couldn't put paddles at, say, front of house (which was maybe 100 feet away), where you normally would without worrying the RF signal would get blow out by some extraneous nautical radar."
Mulligan, along with Bob Rendon and Mac Kerr of PRG Secaucus, initially considered placing the receivers underneath the stage itself, but decided against this, since direct access to the equipment was too valuable to the team to forgo. Rendon had heard incidental reports of the low cost RF Optix RFoF system, and decided to try it out as a way of remoting the two diversity paddles 250 feet without resorting to expensive and finicky coaxial cable.
"It was a bit of an unknown. No one had really used it," remembers Mulligan. "But I was absolutely blown away by the performance of the unit."
The team remoted two diversity paddle antennas right next to the stage using two RF Optix systems on 250 feet of singlemode fiber optic cable, which provided diversity reception as well and little to no in-line attenuation.
"We asked each other, how many channels can this thing handle?" recalls Mulligan. "Is there a limit to what it can do? From what I saw, no. It was able to handle the bandwidth; we were running approximately 24 channels of RF through the RF Optix, while the amount of extraneous RF in the vicinity was high. There were no issues with dropouts, and there were certainly no issues with any kind of intermodulation from radar signals coming in."
Mulligan explains that the alternative, remoting paddles on LMR-400 coaxial cable was feasible but not as eloquent or reliable as using fiber with the RF Optix. "Personally, I would use it over coax anytime. There are issues with coax, the integrity of the cable is always in doubt, since small kinks and damage can impact performance quite easily."