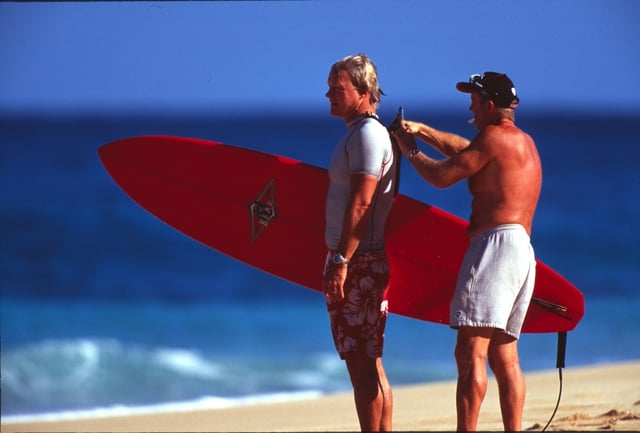 Tim Denmark is a lifelong surfer and also a broadcast audio engineer. So it should be no surprise that when Tim talks about surfing, he describes the aural experience of being inside the roaring curl of a Pacific tube wave with as much reverence and detail as the riding itself. When we talked to him, it was nearly spiritual.
"I had something rather like a revelation when I was out surfing the Pipeline in Hawaii," Denmark remarked while describing a ride on the legendary swells off O'ahu's North Shore in his younger years. "I got on a big wave, a serious wave, and said to myself, 'this is a really loud wave, there's a lot of sound out there.' But you watch videos and films on surfing and you never know this major part of the sport. Surfer's know it—we all know it—but nobody else knows it because you watch surfing on film or TV and you never hear what's going on."
"So I said if anybody's gonna figure this out, how we can pull the sound from the water, it's gonna be me."
And Tim was right. Already a veteran audio engineer for major sports networks FOX, ESPN, and NBC, Tim envisioned capturing crisp audio off the nose a surfer's board for both recorded anad live broadcasts—which meant going wireless.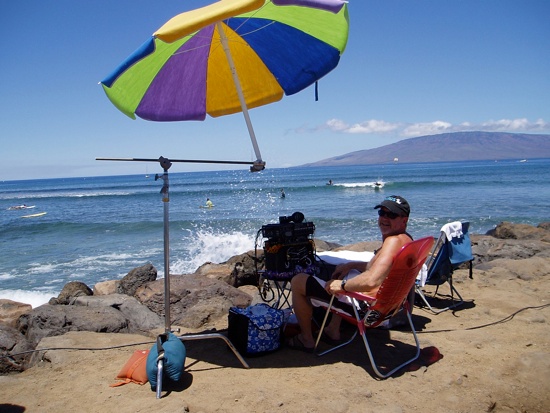 Tim, on the "job." Leading image shows Tim rigging his system onto surfer.
His first design used a RadioShack wireless microphone sent to a DIY loop antenna made from salvaged telephone cord. A custom plexiglass case protected the pack and antenna elements from water. But the results were less than ideal.
"The problem was, the water passing over the elements changed the RF and sounded strange and watery, almost like a toilet flushing, although the transmitter placement actually wasn't so bad," Tim said.
Over the next 15 years he rebuilt his designs to use professional ENG packs from Lectrosonics and Quantum5X, and started working with long range helicals from Professional Wireless Systems. The waterproof acrylic cases got more sophisticated, and he lifted the gear off the board and onto the surfer with a body-hugging harness that keeps the antenna on the surfer's back, and the mic on their collarbone.
Tim's equipment must perform under unusually harsh circumstances. Massive swells make line of sight transmission unpredictable, and Rx to Tx distances can be upwards of a mile. And of course all of it takes place over the audio engineer's worst nightmare: salt water.
"It's very difficult to get mics that work in salt water," Tim said. "I have been using modified Countryman and DPA microphones that are resistant to salt water, although it is still a challenge to windproof a microphone while also waterproofing. I've been using finger cots to provide waterproofing without changing frequency response too much."
The refined system worked well enough to get a breakthrough gig at a broadcast taping of the Pipeline Masters Surfing Competition in Hawaii in 2004.
"When these guys saw what I was doing, they got really excited," Tim remembered. "The surfers wear different jerseys to distinguish who's who on the water. And we had the jersey manufacturers make little pouches for the transmitters and channels to run the wires through, and once the pro tour got wind of it then everything kind of went crazy."
The system became the foundation for Tim's company, H2audiO, which serves the specific niche of live and recorded audio for aquatic adventure sports (and you can also listen to H2audi0 gear in action here). During the surfing boom of the early 2000s, Tim wired surfers for multiple tournaments broadcast on ESPN's X Games and elsewhere, many of them financed by flourishing surf-wear companies like Quiksilver, Billabong and Hurley.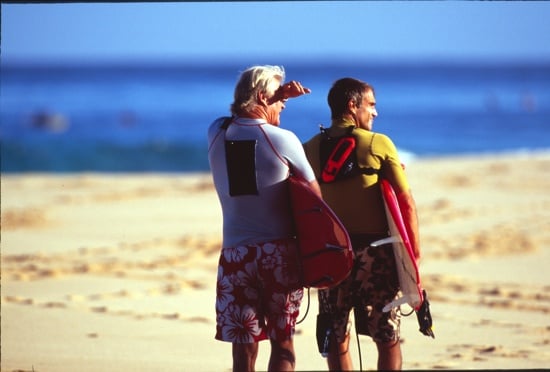 Surfer's wearing H2audiO packs.
The surf scene has quieted slightly, but Denmark still has plenty of work as an audio and RF engineer on NFL and MLB gigs while H2audiO waits for the next wave to break. And he picks up smaller surf related jobs when they arise. He did adjunct sound on the recent film Chasing Mavericks, and this week he's headed back to Hawaii to work a project with five big wave surfers called Hell or High Water. He'll be using his own proprietary H2audiO pack, EMW Countryman mics, and a Zaxcom recorder to record direct to tape.

Tim is also actively searching for the right investors to finance an adventure film featuring ambient audio captured with his gear.
And he still surfs for fun. When we talked to him he had just returned from a pilgrimage to the remote Marshall Islands in the South Pacific. The community is aware of his work, and willing to take it it the next level, he said.
"People support me… I've had surfers come up to me while I'm doing my deal, and I'll say, 'you wanna listen?' And they'll put the headphones on and they'll look out there, then look at me, and then look back at the surfers on the water and say 'son of a bitch.' Why? Because they've never sat on the shore and heard what they hear in the water. It's a big deal for them, and it's a big deal for me.