House of Worship Wireless Audio System
With RF Venue, you don't have to worry about delivering your message with clear audio quality.
Whether your house of worship is a small congregation or a massive church or cathedral, your message needs to be heard clearly, so your church needs the best wireless audio system available.
Many churches have old, outdated, and cumbersome audio equipment that is near the end of its useful life. As an audio system ages, the signal can degrade, making the audio sound distorted or muffled, so your congregation will not get the experience they are attending your church to get.
RF Venue's church wireless audio essentials will give you consistent, high-quality sound, so your congregation will hear your message clearly. We carry only the best quality wireless microphones and systems that are easy to use and designed for churches.
This chart can help you determine what all your house of worship's sound system will need:
Small Size Church

Up to 100 people

Medium Size Church

101 to 500 people

Large Size Church

Over 500 people
Small Size Church
Up to 100 people
How Many Mics:

1 to 2

How Many IEMS:

Typically not used

Application:

Worship Leader and Vocalist

Problem:

Mic Dropouts, Inconsistent Performance

Causes of Problems:

Existing antenna farms
Poor line of sight from buried antennas to the mics
Increasing interference from 5G cell phones
Interference from challenging RF environment

RF Venue Essential Solution:

2 Channel Remote Antenna Kits
Band-pass Filters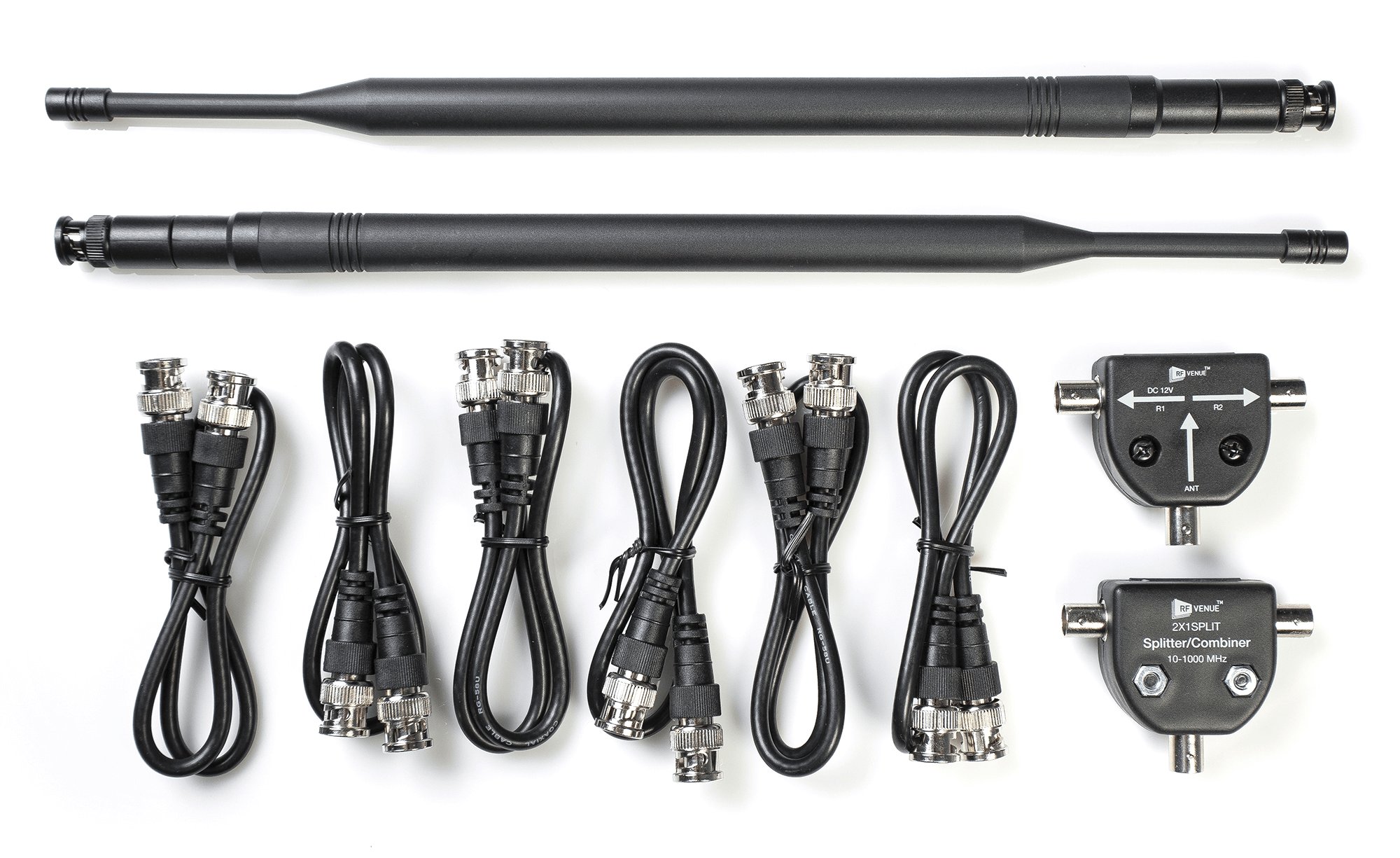 Essential Accessories
Learn More

Essential Accessories
Learn More
Medium Size Church
101 to 500 people
How Many Mics:

4 or more

How Many IEMS:

up to 5

Application:

Several Worship Leaders and Medium Band

Problem:

Mic Dropouts, Inconsistent Performance

Causes of Problems:

Existing antenna farms
Poor line of sight from buried antennas to the mics
Increasing interference from 5G cell phones
Interference from challenging RF environment

RF Venue Essential Solution:

Diversity Fin Antenna Distro9 Upgrade Pack
Diversity Architectural Antenna Distro9 Upgrade Pack
CP Beam Antenna Combine8 Upgrade Pack
Band-pass Filters
Large Size Church
Over 500 people
How Many Mics:

6 or more

How Many IEMS:

6 or more

Application:

Several Worship Leaders and Large Band

Problem:

Mic Dropouts, Inconsistent Performance

Causes of Problems:

Large coverage areas
Existing antenna farms
Poor line of sight from buried antennas to the mics
Increasing interference from 5G cell phones
Interference from challenging RF environment

RF Venue Essential Solution:

Diversity Fin Antenna Distro9 Upgrade Pack
Diversity Architectural Antenna Distro9 Upgrade Pack
CP Beam Antenna Combine8 Upgrade Pack
Band-pass Filters