Campus Sound
With RF Venue, you don't have to worry about drop-outs, interference and sound quality around campus.
Whether you need a wireless audio sound system for your classroom, auditorium, or cafeteria, the high-quality systems available at RF Venue are the perfect solution.
A campus sound system can be complex, which is we have wireless audio systems available for any part of campus that need a new system.
The audio sound system at many schools is getting old and outdated, which means that the sound might be garbled and not everyone will hear the message clearly. This is why it is crucial to upgrade the system as soon as it starts having problems.
Managing audio across campus for multiple environments with different applications is always challenging, but the ultimate goal is to maintain clear and intelligible audio in every space where wireless mics and in-ear monitors (IEMs) are used.
This chart can help you determine what all your campus wireless audio sound system will need:
Classroom

Less than 50 people

Cafetorium

Up to 250 people

Auditorium/Multi-Use

250 or more people
Classroom
Less than 50 people
How Many Mics:

2 or more

How Many IEMS:

Typically not used

Application:

Lecturer/Teacher

Problem:

Mic Dropouts, Inconsistent Performance, IEM Fidelity

Causes of Problems:

Poor reception from hidden antennas in AV closets
Interference from video walls

RF Venue Essential Solution:

2 Channel Remote Kit
Diversity Architectural Antenna
Band-pass Interference Filters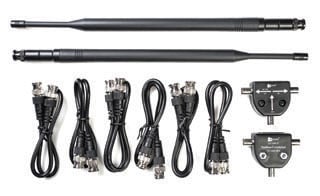 Wireless Mic Essential Accessories Solutions
Learn More

Essential Accessories
Learn More
Cafetorium
Up to 250 people
How Many Mics:

2 - 5

How Many IEMS:

Up to 5

Application:

Conferences, Multi-media Presentation, Plays, Musicals

Problem:

Mic Dropouts, Inconsistent Performance, IEM Fidelity

Causes of Problems:
RF Venue Essential Solution:

Diversity Architectural Antenna Distro4 Upgrade Pack
CP Beam Antenna Combine4 Upgrade Pack
Band-pass Interference Filters
Auditorium/Multi-Use
250 or more people
How Many Mics:

6 or more

How Many IEMS:

6 or more

Application:

Conferences, Multi-media Presentations, Plays, Musicals

Problem:

Mic Dropouts, Inconsistent Performance, IEM Fidelity

Causes of Problems:
RF Venue Essential Solution:

Diversity Fin Antenna Distro9 Upgrade Pack
Diversity Architectural Antenna Distro9 Upgrade Pack
CP Beam Antenna Combine8 Upgrade Pack
Band-pass Interference Filters