Three-tiered training program serves to educate and train industry professionals and end users on wireless microphone and IEM issues, and the solutions offered by RF Venue's differentiated accessories
Ashland, MA, USA, February 15, 2022 — RF Venue, Inc., a leading global developer and manufacturer of antenna and RF communications products, is offering an ongoing series of free training sessions for industry professionals and customers – including integrators, installers, designers, venue managers, audio specialists and other end users. These sessions, organized in a three-tiered structure based on level of expertise and need, are intended to educate and train the industry on RF wireless technology, common problems, and the solutions offered by RF Venue's product line along with best practices for wireless system management. "RF in general is a nightmare in today's world, and it is only going to get worse," shares Luke Gaikwad with Seacoast Church in Charleston, SC, "but RF Venue's products and solutions make managing that a breeze. Their training sessions and webinars are invaluable."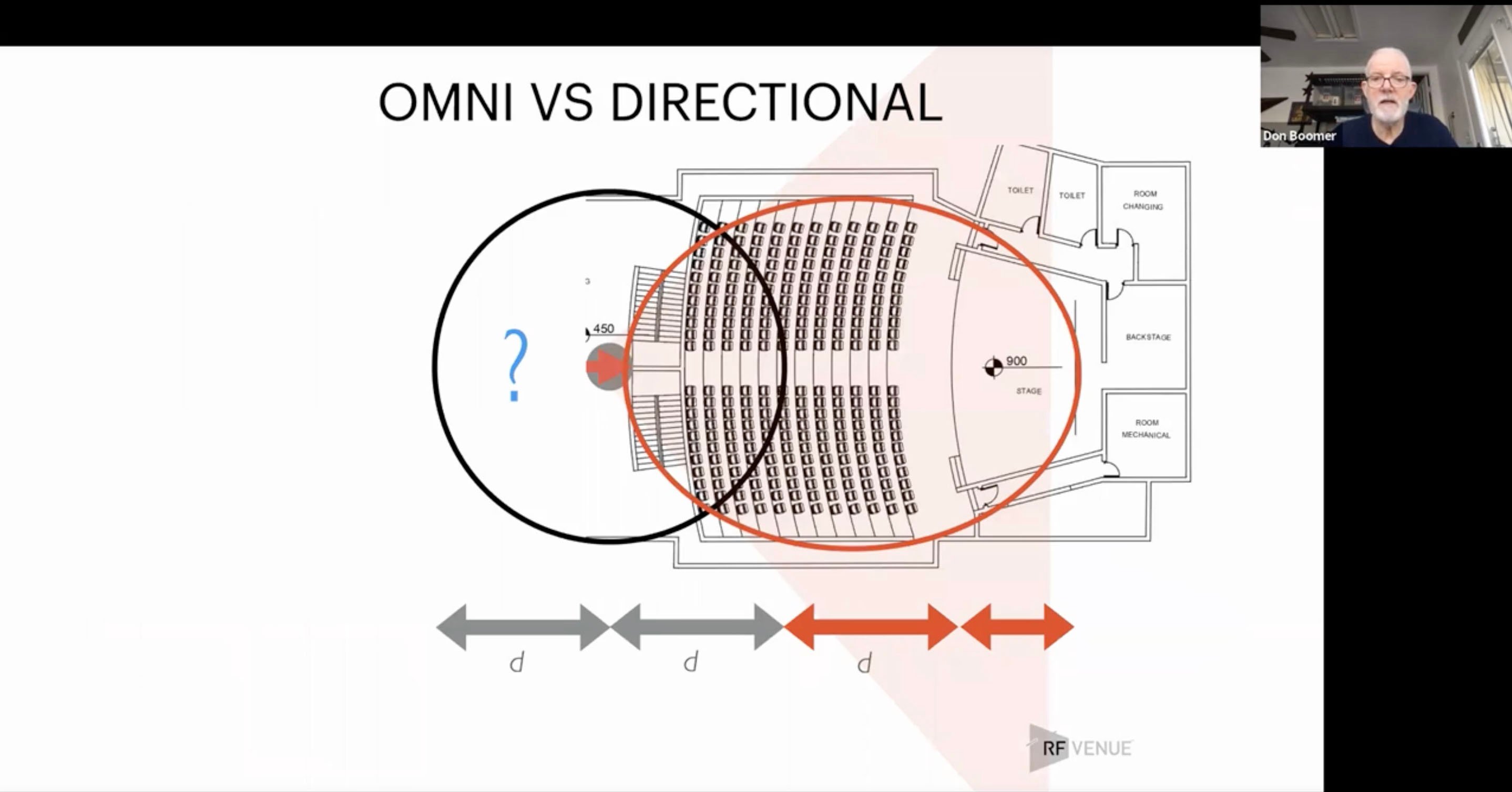 RF Venue senior applications engineer Don Boomer takes questions during an RF Venue training webinar
The first tier of RF Venue training is its Expert Series, a collection of content for independent online training available to anyone looking to extend their knowledge of RF and wireless systems. This 12-part video training series, delivered via dedicated emails, is a distillation of RF Venue's highly acclaimed training sessions led by senior applications engineer Don Boomer. Each video is short and to the point with essential info for successful wireless mic and IEM projects, including topics such as "How to Properly Use Antenna Distribution Systems," "Understanding Polarization and How it Affects Your System," and "Avoiding and Understanding Intermodulation Distortion (IMD)." Upon free registration, registrants will receive a new training session video link in their inbox weekly to view at their convenience.
RF Venue Live Zoom bi-monthly webinars are the second tier. Also available to all interested, these live Zoom training webinars address challenging topics in RF and provide up-to-date knowledge on the most common issues with wireless microphones and IEM systems. The focus of these webinars is on solutions and best practices applicable in all types of venues, from sports arenas, concert halls and house-of-worship audio production to multi-zone casino setups. "This webinar is a thorough explanation of 'Why?'," Clair Global's Seth Morth remarks about the RF Venue webinar "Why Wireless Microphones Drop Out." "RF Venue has put the time and effort into developing agnostic add-ons to work with and bring together all products no matter what manufacturer receivers or transmitters are in use," Morth continues, "and they make our job easier as an integrator." Other recent sessions have covered topics like "Placing Antennas" and "Setting up IEM systems." The next event, coming up Thursday, Feb 17, 2022 11:30 AM (EST), is titled "Most commonly asked questions after 10,000 installations." Presented every two months, the nominally 30-minute live webinars include a Q&A segment and require free Zoom registration to join. Individuals wanting advance notification of future webinars and to stay up to date on tech-tips, case studies and product information should subscribe to the RF Venue's blog. Registration for the next webinar is now available.
RF Venue senior applications engineer Don Boomer takes questions during an RF Venue training webinar
The exclusive third tier of RF Venue product training is available only to RF Venue partners, resellers, and system integrators who install RF Venue products. These personalized, one-on-one sessions hone in on specifics directly relevant to the participant's facility and workflows, and dive deep into implementation and operation of RF Venue systems, getting into the "how" and "why" of the deployment of RF Venue's user-friendly solutions. "We sit through so many presentations and product training sessions," says Justin Schwartz of All Pro Integrated Systems. "They often seem to run together, and you leave the session feeling as though you just wasted an hour of your precious day. Then we had a session with the folks at RF Venue, and it was completely the opposite. Don and the RF Venue team did an amazing job. Being able to interface with and learn from them on a one-hour training was better than any previous RF based training that I have received." Personalized training can be requested by contacting RF Venue Sales Director Adam Brass by email at adam@rfvenue.com or by calling 1-339-205-3896.