By Brian Blackmore
The Answer is Audio.
Learn how a fast-growing, multi-site church improved audio quality while speeding set-up for its portable campuses.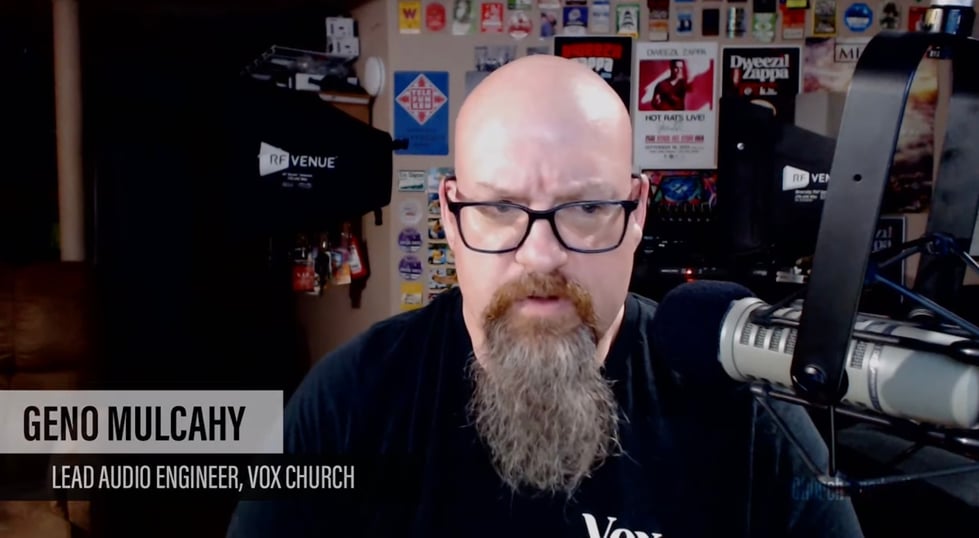 Despite all the attention given to camera angles, lens selection, switcher transitions, and lighting, the one sure way to lose an audience is by delivering bad audio.
Vox Church, a multi-site church with nine campuses spread across New England, had several challenges when delivering its live stream each Sunday. First, it's situated in a highly populated region of the country with lots of competition for wireless bandwidth. Secondly and more importantly, the church live streams its services from one portable broadcast campus—where volunteers perform load-in and load-out every weekend—to its eight other portable campuses. The church's live stream also appears on its website and YouTube channel.
"Equipment-wise, we try to be as efficient as we can, so that we can launch as many churches as we can and also make the job easier for each volunteer on a Sunday morning," says Rob Roy, central production lead, for Vox Church based in Branford, CT. Learn more about how Vox Church is improving audio for its live and online audiences in this DAVE.video conversation with Rob Roy, Geno Mulcahy, lead audio engineer at Vox church, Chris Regan, co-founder of RF Venue and Brian Blackmore, editor of Church Production Magazine.
Vox's campuses stretch from Stanford, Connecticut, to Worcester, Massachusetts, with the broadcast campus sitting in the middle in Branford, Connecticut. With a roughly four-hour drive between campuses, if equipment isn't working at one of them, it's not easy to substitute the faulty piece with one from another campus.
"We've all but eliminated wireless problems with this solution,"

- Geno Mulcahy, the lead audio engineer at Vox Church.
Robert Roy is the central production lead for Vox Church. "We have a very small paid staff for each campus, as far as production-wise. And so equipment-wise, we try to be as efficient as we can, so that we can launch as many churches as we can and also make the job easier for each volunteer on a Sunday morning."
One way the church speeds load-in and load-out is through its heavy reliance on wireless mics and in-ear monitors (IEMs). Using more wireless systems, for instance, reduces the time and effort involved in uncoiling and wrapping cables. It also reduces on-stage clutter—an important factor when shooting video.
In a recent effort to improve audio quality and reliability, the church's technical leadership added technology to solidify signals for its wireless microphones and in-ear monitor systems across all of the campuses, using wireless antennas and signal combiners from RF Venue.
Geno Mulcahy, the lead audio engineer at Vox Church, says using wireless is a time-saver. "Well, that's the big thing, being a load-in church. We're moving in, moving out, so time is not our friend," he says. "So, not to have to spend a half hour coordinating frequencies and doing stuff—that in itself is worth the investment in RF Venue. I have the confidence of just turning on the rack and going."
Roy says there's a very small learning curve for volunteers when it comes to wireless, and that RF Venue systems give them the benefit of not having to understand everything about wireless. They can just plug and play, a benefit of finding a single wireless solution that works together well regardless of the make and model of wireless mics or IEMs.
Vox is using RF Venue's Diversity Fin Antenna, a multi-purpose antenna for wireless microphones that's less susceptible to drop outs, due to a patented cross-polarized design. It provides a diversity solution in a single package by combining one log-periodic dipole array (LPDA) and one dipole antenna in an orthogonal (right angle) configuration. One element captures vertically polarized waves, and the other horizontally polarized waves.
As Mulcahy says, "You can imagine the looks on our faces when we first saw it, 'Uh, an antenna? Oh, cool. Great. What's that all about?' Well, it was truly a game changer with the fact that I could have one source that addresses both our diversity needs and eliminates the need to carry two antennas."
Unlike traditional "paddle" or "shark fin" antennas, the Diversity Fin allows receivers to see a constant signal regardless of microphone orientation, allowing the user to hold a wireless microphone in any position relative to the antenna without signal loss.
"So, the primary RF Venue products that are in play at Vox support the wireless microphones and in-ear monitors," explains Chris Regan, co-founder and president of RF Venue. "On the wireless microphone side, we're talking about the Diversity Fin Antenna, which eliminates the most common form of dropouts indoors that are due to the changes in angle and orientation of the microphone. That antenna will interface with our DISTRO4, which is a four-channel, plus cascade, antenna distribution system that you then hook into your wireless mic receivers. Or, for higher channels, if you have more than four or five microphones, the DISTRO9 HDR is a higher performance, higher channel count distro in a single rackspace, [and] saving rackspace makes the system more affordable—something that's always welcomed."
"If I'm spec'ing a rack and putting together a rack with all our wireless, I can do a frequency search online, tune all our wireless, but I know that RF Venue is going to pick up that extra bump. [So] when I send that rack to Worcester, it's going to work, because it's so good at taking care of that last step," explains Roy.
Regan says his company decided to develop these products instead of a next-level wireless microphone. The antennas and other signal distribution systems all go together to interface with any brand of wireless system, and they're working well for many churches. As he says, "We've carved out a space, in between the typical manufacturers, to really bring a new level to the accessory space in a way that improves the performance. It works better and it costs less with any brand wireless system without needing an RF engineering degree to pull it off. And so we've been really successful working with a lot of churches to really level up their wireless systems, affordably."
Mulcahy concludes, "I nicknamed RF Venue, 'The Glue.' They are the glue for my wireless. They are that last part of the puzzle that you need to have to make sure it's all together. And my volunteers have instant success, and they want to do more—they want to be involved more when they're successful. So we've tried to take away the [unknown] variable of wireless, which we all know and that can be immediate in any given situation. We've all but eliminated wireless problems with this solution."
Brian Blackmore is editor-in-chief and publisher of Church Production Magazine and Church.Design . He can be reached at bblackmore@churchproduction.com.