Tim Kilbride, owner of AV company The Sound Source, relies on RF Venue essential accessories for productions where "failure is definitely not an option ever," like the complete wireless infrastructure for live music, based on the RF Venue® Diversity Fin® Antenna, CP Beam™ Antenna, DISTRO4™ antenna distribution system and COMBINE4™ active IEM transmitter combiner, that Sound Source brings to the Caesars Superdome and the Smoothie King Center. The system enables New Orleans' signature music artists to be ready at literally a moment's notice for songs to fill game breaks with no wireless mic or IEM dropouts.
Walpole, MA, USA, Two of the things that visitors come to New Orleans for are the sports and the music. The city is the home of jazz as well as a variety of major-league, minor-league and collegiate sports teams, including the flagship NBA New Orleans Pelicans and NFL New Orleans Saints. And the Pelicans and Saints always keep live music an integral part of the experience at both the Saints' Caesars Superdome and the Pelicans' Smoothie King Center. In both of those locations, locally-based AV company The Sound Source builds a fully wireless infrastructure, based on RF Venue's D-Fin antenna, DISTRO4 antenna distribution system, COMBINE4 active IEM transmitter combiner and CP Beam antenna, which means rock bands, jazz combos, marching bands, hip-hop acts and artists of every other genre are ready to fill in during breaks between play, commercials and halftimes, without ever interfering with the workflow of the games themselves.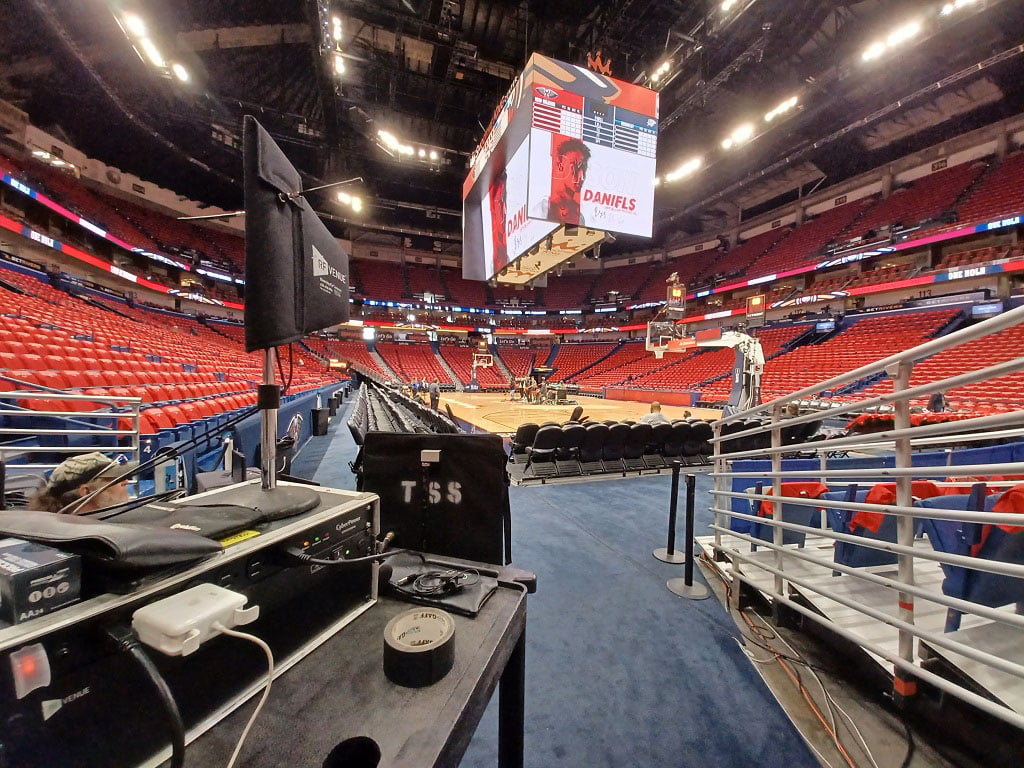 Imagine doing the scaled-down equivalent of a Super Bowl halftime show, except doing it as many as six or more times per game. That's what Tim Kilbride, Owner of The Sound Source, had to figure out several years ago when the teams' entertainment coordinators approached him about filling in those game breaks with live music. Kilbride, who had built a thriving business providing AV systems for corporate and local sports clients, including for the Battle of the Bands at the annual post-Thanksgiving Grambling State Tigers vs. Southern University Jaguars Bayou Classic game at Caesars Superdome, was asked how to make the in-game performances as efficient as possible while still getting full impact through the venue PA systems. Microphone cables and other wiring would complicate already heavily trafficked areas of the venues. "My suggestion was to go fully wireless – everything, including power," says Kilbride, who has toured as a monitor engineer with artists including Luther Vandross, Tracey Lawrence and Charlie Daniels. "There needed to be multiple performances during a game, cued up on a carpet that encircled the court in the case of the arena, and all of the bands had to get into the PA system and have monitors. But the real challenge was that they had to get set up and ready to go for every performance in 90 seconds! Literally 90 seconds. That's all they gave us."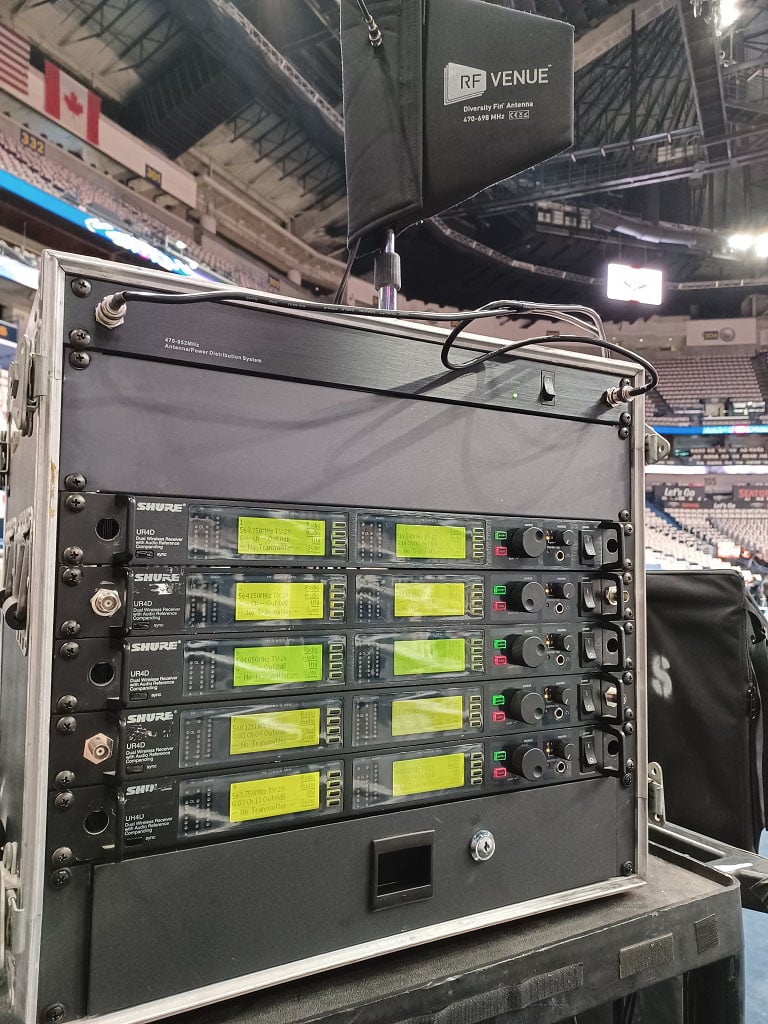 RF Venue, a global leader in antenna and RF wireless audio essential accessories that deliver dropout-free wireless mic and IEM performance regardless of system brand or model, was key to this solution. The Sound Source assembled a rack with RF Venue's DISTRO4 antenna distribution system and COMBINE4 active IEM transmitter combiner. The RF Venue Diversity Fin antenna was set up to handle all of the instrument and vocal microphones, while the CP Beam antenna was used for the wireless in-ear monitors. All wireless microphones used are from Shure – ULXD, UR4D and SLXD transmitters – and IEMs are Sennheiser EW300 series. The coup de grace was the implementation of several rechargeable battery-based AC power generators that made the entire live-music production completely wireless.
"I had begun using the RF Venue equipment on corporate productions, where failure is definitely not an option ever," says Kilbride. "The Superdome in particular is a difficult venue for wireless; even the NFL has issues there. And we do have to do considerable frequency coordination with the teams in each venue. But the RF Venue products are rock-solid. We're able to do all of the instruments and vocals with a single D-Fin antenna, and the combiner and distribution systems have been flawless for every performance. There are no dropouts, ever. RF Venue helps keep the music part of the experience at the games."