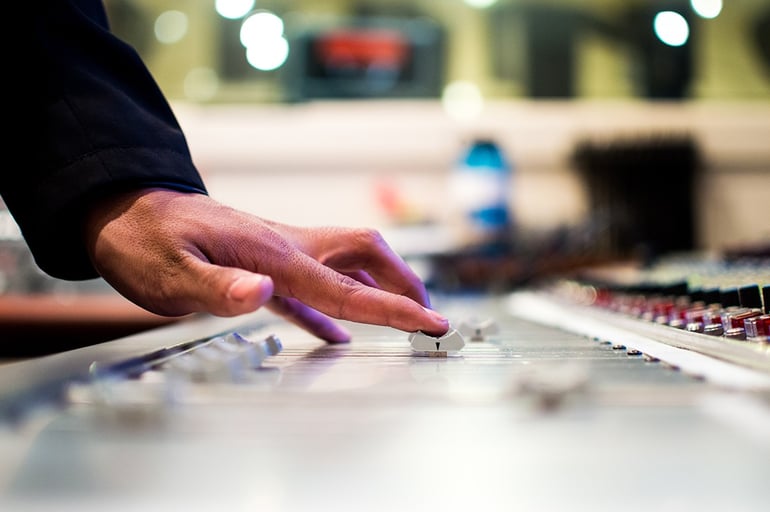 While having dinner with a friend, Tony Falco, and his wife Liz, he mentioned that he is actively looking for a space to record. I rattled off a few pessimisms about the anemic state of the recording industry, and received a well-deserved eyebrow from Tony.
I have no personal or professional experience in, or aspirations to, recording. But I have heard about it.
Mostly, I hear bad things: that recording is "dead" or "dying," wounded first by DAWs, and then killed off in 2008.
That's why Tony's plan surprised me. Why would you open a recording studio in this day and age, and actually expect to make any money from it? Tony, a drum performance graduate of the New England Conservatory of Music, is anything but naive about music careers.
It surprised me so much that I thought I would investigate my assumptions.
So, can you still make money opening and running an independent studio?
The first thing I did was give Tony a call to get his thoughts on paper. Why dream of opening a studio?
"If," he told me, "you recently invested in physical gear and traditional education with the sole intent of becoming an audio engineer and opening a studio, the accessibility of software tools and an abundance of used gear probably did kill the dream in that respect."
It's old news that the introduction of affordable digital audio workstations like Pro Tools in the late 90s heralded the beginning of the end for old ways of making records, and the obliteration of many of the iconic big studios.
"For me," continued Tony, "it's not all about recording. A studio is just one of the pieces that fits together to make my life as a musician work. I'm making an investment in software, equipment, and space for what it would take to record a single album, and then I also have a space that separates my personal and professional lives where I can practice and teach."
For many musicians and engineers like Tony, a studio is no longer a viable means of deriving the majority of an income, but can very easily be one of many different income streams in a way that was not possible before, because the equipment overhead is so much lower. Likewise, a specialized recording or mastering engineer who does nothing but record or master is now rare, while combinations of engineer/musician/entrepreneur/hobbyist proliferate.
When I asked Matt McArthur, Executive Director of Boston area non-profit studio The Record Company, on the possibility of running a profitable studio he promptly said, "absolutely, but it's different than it used to be."
"Because it is so difficult to derive a good margin—or any margin—from the sale of recorded material, the role of the recording studio has changed. It used to be the recording studio was something that artists and labels invested in on speculation that they would be able to produce a return on the product they created. While there are some successful artists in the world who still do sell records, for the most part making records is now a marketing expense."
For his own enterprise, Matt applied a non-traditional business model—the non-profit—to a recording studio around a unique mission, to "amplify Boston's diverse musical voices."
The Record Company is a success because it approaches recording from a framework that acknowledges just how much the industry has changed. Like Tony, Matt is able to make recording financially "work" by fitting recording services in with other strategies. Their non-profit status allows them to accept donations, and they also rely on clients to provide their own freelance engineers, rather than keeping an in-house engineer.
Matt told me other studios have been able to survive as standalone, for-profit shops by doing the opposite: staffing a skilled engineer and maintaining margins by charging a premium hourly fee for his/her services either to professional musicians or, increasingly, to music hobbyists with disposable incomes.
There is even evidence that old-fashioned studios and studio roles have actually grown (albeit in small amounts) since 2004-05, fueled by the need for complex scoring sessions on sophisticated video games and big-budget television shows.
The US Census keeps records on industry employment information through the yearly Statistics of United States Businesses Survey. There is a lucky NAICS classification, #512240, that contains sound recording and mastering studios and almost nothing else.
Check out how precipitously employment dropped once DAWs became affordable.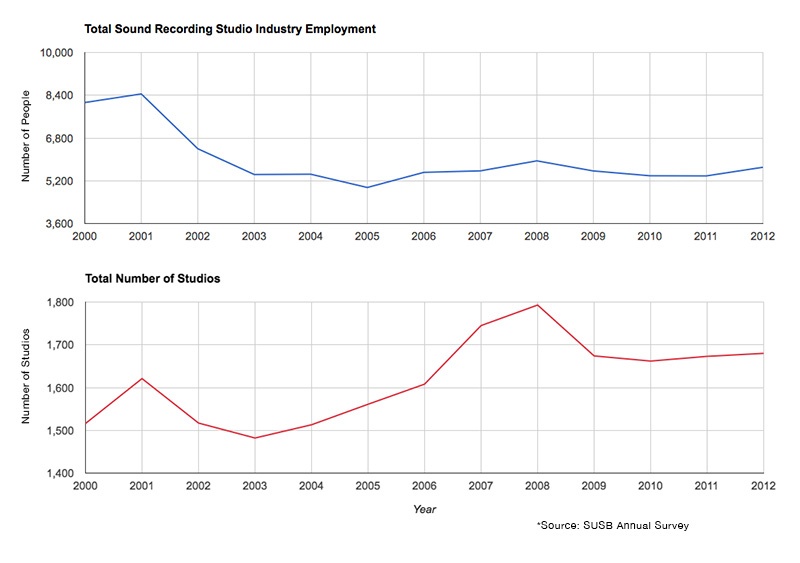 But, the number of studios has steadily increased since then, and the ratio of small studios to large studios has grown.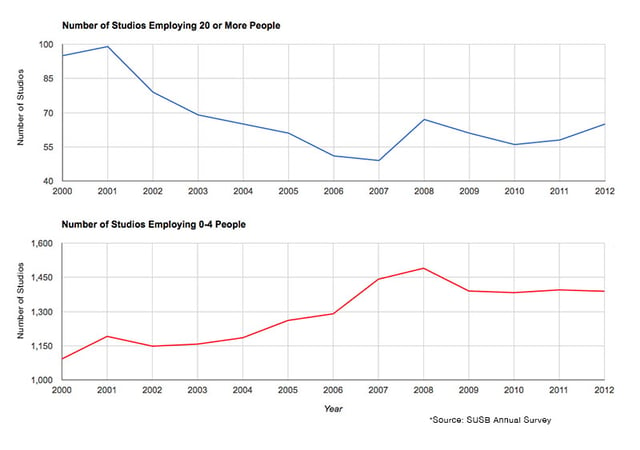 There is also this tantalizing chart that appears to show the incomes of sound recording studio employees steadily rising. In 2012 the payroll per employee was the highest it has been in more than a decade.

Because the SUSB survey for this code doesn't tell us about every economic activity that involves sound recording and mastering, I can only say this information suggests the financial condition of existing recording studios isn't getting any worse—which is still a much better prognosis than the stories of persistent deterioration and oblivion I've heard repeated by some.
We probably don't get a good picture of the employment levels or incomes of freelance engineers who do not own their own studio. We don't know to what extent musicians who are professional artists on paper are charging or paying for recording services under the table or as favors. And we can't peer into the dark recesses of the hobbyist market.
And this last one, the hobbyist market, may be the biggest one of all.
Sparkling new pre-amps and rack processors show up at NAMM year after year. Someone's buying them. Right?
"The lower end of the market, the base of the pyramid, has greatly expanded as the recording medium changed from tape machines to computer-based digital recording," says EveAnna Manley, founder of Manley Laboratories, Inc. who helped me understand the new demographics of the end-user market for studio recording gear, which give a different perspective on the resilience of recording as a profession and pastime than the SUSB surveys do.
A few members of the RF Venue team witnessed these changing market dynamics while building Crowley & Tripp microphones.
Former Crowley & Tripp Product Manager and current RF Venue CEO Chris Regan commented, "overall, we saw the demand for the highest end studio gear ceding ground to the middle and lower end of the market. There is still a strong desire for quality tools to capture and record, they just don't go into multi-million dollar facilities."
Though C & T was as successful as any maker of ribbon microphones can hope to be, they watched as other high end gear manufacturers and retailers lost margins and went out of business.
So it's great to hear manufacturers like Manley are doing well, even if many of their awesome tube amps vanish into garage and basement studios, never to be seen (or heard from) ever again.
"While we still supply recording gear to traditional recording and mastering studios, film scoring stages, live sound touring rigs, and working recording engineers," EveAnna continued, "the market that has really opened up in the last decade or so has been to the songwriter and the hobbyist who have set up DAW-based recording rigs at home."
How much has the hobbyist market expanded? And what percentage of all studio equipment manufactured do hobbyists buy?
The wireless audio market does not allow me to answer these questions, though it does let me sit at a desk in a city and blog.
As for Tony, he lives out in the sunny hills of Greenfield, steadily building a small but sustainable musical universe that includes a studio. I'd say he's living the dream.